We are your full service lash company!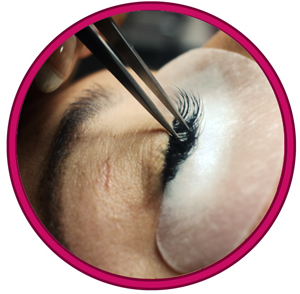 Need beautiful extensions for your eyelashes? We have them! Your eyelash extensions will be naturally applied to your lashes. These are easy to customize and can give you a natural or a more dramatic look. Wake up feeling gorgeous and sexy, eliminating some of your makeup needs and cutting the application time. Not to mention removing the frustration of clumping and gunky mascara.  You and I both know how valuable time is and you need to have more time for you, not spend more time on trying to get that perfect look in the mirror, why not just wake up with it!

You may have heard the rumors, and maybe they have been your reason for hesitating to get new lashes. However, we at Lashes On Fleek is here to tell you the truth! The application process is not painful or irritating, in anyway!

When you get your lashes applied by a trained professional tech, like Lashes on Fleek, your new lashes will not cause damage and will be easy to maintain for a long period of time. However, even natural lashes fall out, or shed at times, so to maintain a full appearance, you will need to have frequent appointments. There is no pain involved in the process!

The area surrounding your lash will be cleansed and we will use surgical tape for the bottom lashes to isolate the top lashes.  While your eyes are closed, we will apply extensions to your natural lashes with an adhesive.

Then at the end of your appointment, after a quick air dry with a simple electric dryer, your eyes will be opened to a new fuller set of lashes! We can make you feel beautiful and sexy with longer lashes today, come in to Lashes on Fleek or make an appointment online today!
MENU
Full Set (Unlimited Lash Count)
2 hours $150
Classic Set (Half Set)
1 hour 30 minutes $115
Master Feathered King Kylie Set
3 hours 30 minutes $250
Unlimited Lash Count Fill-In
1 hour Starting at $80
2 Week Classic (Half Set) Refill
1 hour $65 More info
Lash Touch Ups
30 minutes $35
Eyelash Extensions Removal
30 minutes Starting at $30
Foreign Fills
1 hour 30 minutes Starting at $85
Lash Wash
10 minutes $10
Book Now