Unlike false eyelashes, eyelash extensions are neither a do-it-yourself project nor a temporary commitment.
One is applied to each natural lash with a semi-permanent glue, so they are meant to stay in place for several weeks. With extensions, your lashes get the length and volume that nature couldn't (and that multiple coats of mascara and a lash curler couldn't provide), but at the length you deserve.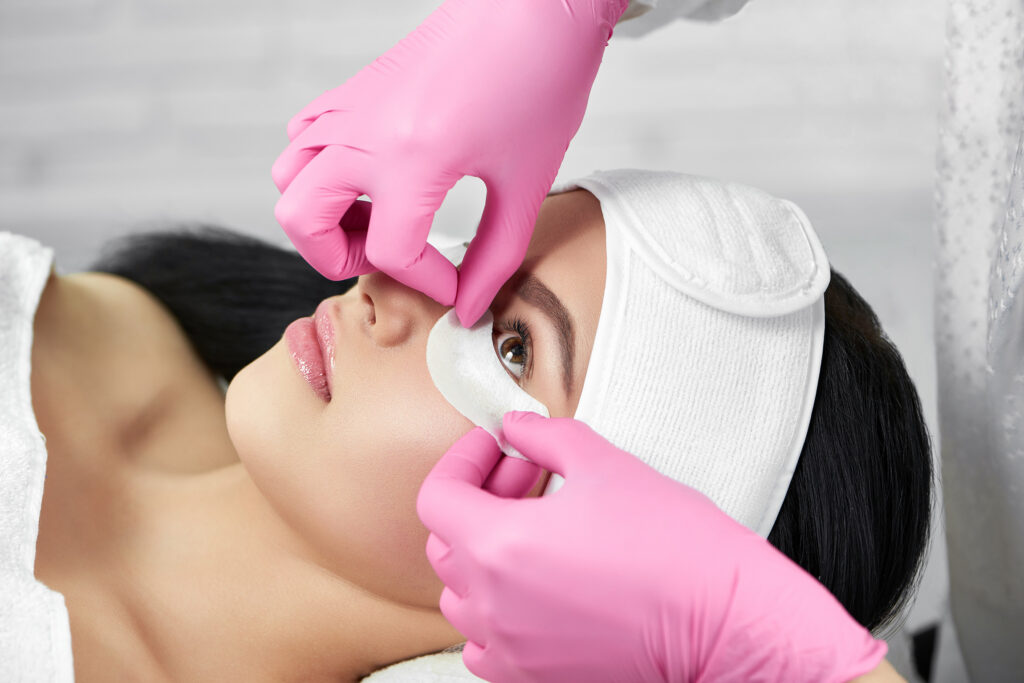 So, how are eyelash extensions actually done?
You'll start by lying on your back and getting comfortable. The bottom lashes will be protected with under-eye pads, stickers, or tape. During the entire procedure, your technician will delicately attach each extension with tweezers as your eyes remain closed.
The only way to attach eyelash extensions to your natural lashes is with waterproof adhesive. Black, waterproof adhesive or glue is the most popular because it gives the convincing impression of perfect mascara. It does not clump. It does not require daily application and removal. Combined with your natural lashes and synthetic lashes, this is the perfect semi-permanent mascara!
There are different adhesive grades available depending on what you are comfortable with. The adhesive will range from non-irritating, fume-free pharmaceutical/medical adhesives to fast-drying glues that last a little longer but can irritate very sensitive skin.
Although it may take a few moments to adjust to the fact that a metal object is moving so close to your eyeball, the procedure is gentle enough that, if you're like me, you might find yourself dozing off. A small fan is usually pointed at my lashes as the technician finishes applying the adhesive to help dry them.
Patches are applied to the undereye area to hold your bottom lashes down. She then applies a primer to your upper lashes before using tweezers to fan out your lashes and isolate one of them. With her other hand, the tech picks up a tiny extension using another pair of tweezers, dips the extension in glue, and carefully attaches it on top of the isolated natural eyelash. Your eyes stay closed throughout the whole process.
You will lie on a massage table, eyes closed, in a serene space with dim lights and soft music. First, your stylist will use medical-grade non-stick tape to tape down your bottom eyelashes. According to clients, this is the most frustrating part of the process. Great care is taken during this process to prevent inadvertently gluing bottom lashes to top lashes. One drop of black adhesive is placed on a small stone.
A single eyelash is isolated using eyelash tweezers. An artificial eyelash extension is dipped in medical-grade glue and positioned on top of the natural eyelash. Up to two hours may be spent repeating this process until lashes are full.

HOW LONG IS THE PROCESS?
Sadly, it takes time. Depending on your desired results, the process will take between one and two hours. But there's good news! It may be the perfect excuse to lie down, relax, and put your phone away for a while.
Good lash technicians will take their time. Your safety must always come first. Look for a lash technician who is certified. The stylist may also need to be licensed, depending on the state.
What is the cost of eyelash extensions?
It depends on the location, the technician, and the final look. Starting sets cost about $105 and can cost upwards of $550. Longer lashes require both time and money and could cost hundreds of dollars per year, depending on how often you get them filled.
For how long do extensions last?
Your natural lashes determine the lifespan of the extensions. Natural lashes fall out every six to eight weeks before they regrow, so extensions fall out when the natural lashes they're attached to fall out. With proper care, extensions can last up to six weeks, but touchups are recommended every three weeks to maintain their appearance.
What can I do to help them last longer?
Make sure you don't get new lashes wet for 24–48 hours (and don't get very sweaty during this time).
You should avoid using oil-based products, glycol-containing products, and waterproof mascara.
Anything moisturizing, such as lotion, shampoo, conditioner, and face wash, should be avoided near your eyes.
Consider wearing goggles in the shower.
Do eyelash extensions hurt your eyes?
The medical concerns about eyelash extensions are the possibility of an infection of the eyelid or cornea, permanent or temporary loss of eyelashes, and allergic reactions to the glues, some of which contain formaldehyde. (Like other cosmetics, eyelash adhesives are not regulated by the FDA.)
Physicians specializing in ophthalmology advise requesting that the technician do a spot test on the inside of your wrist before applying glue near your eyes if you are interested in lash extensions.